Blues Saraceno Never Look Back (Cherry Lane 1989) Guitar Tab - $50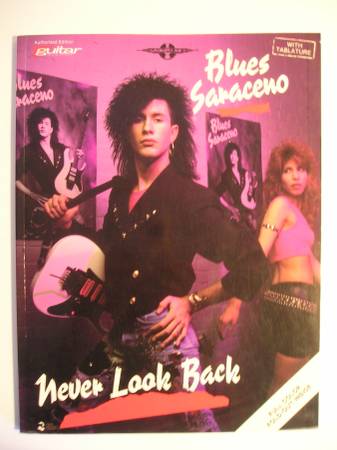 For Sale (1) USED Original Guitar Tab Book.

Blues Saraceno (Cherry Lane 1989) Authorized Guitar Tab Edition
(rare OOP) Transcribed by Neil Johnson

This is Blues Saraceno "Never Look Back" (Cherry Lane) USA Guitar Tab BOOK w/guitars tab for all Solos and Rhythm Guitar Parts. published in 1989.

This songbook is 92 pages and does NOT contain ALL The Band parts. ( Guitar Only )

1. "Remember When"
2. "Never Look Back"
3. "Full Tank"
4. "Jay Walkin'"
5. "Deliverance"
6. "The Shakes"
7. "Before the Storm"
8. "Funk 49"
9. "Jitter Blast"
10. "Frazin'"

Condition; (Like New)

USA GUITAR TAB (Tablature) IS THE MOST ACCURATE IN THE WORLD!

Shipping/handling is $5 in the usa .