DOKKEN Back For The Attack / (JAPAN) Guitar Tab BOOK "GEORGE LYNCH - $100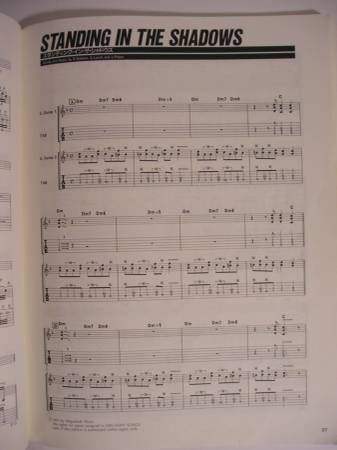 DOKKEN Back For The Attack / CBS SONY SONGS / Japan Guitar-Tab Edition
(Rare & Out Of Print)

Includes Complete GEORGE LYNCH Guitar Solos , with all Song from Album .

1. "Kiss of Death"
2. "Prisoner"
3. "Night by Night"
4. "Standing in the Shadows"
5. "Heaven Sent"
6. "Mr. Scary" (instrumental)
7. "So Many Tears"
8. "Burning Like a Flame"
9. "Lost Behind the Wall"
10. "Stop Fighting Love"
11. "Cry of the Gypsy"
12. "Sleepless Night"
13. "Dream Warriors"

This is DOKKEN " Back For The Attack" 4th studio album / (CBS SONY SONGS) JAPAN Guitar Tab BOOK w/vocal,guitars tab for all Solos and Rhythm Guitar Parts.
Publication 1987 Edition.

This songbook is 127 pages and does NOT contain ALL The Band parts. ( Guitar & Vocals Only )

Condition; (Fair)

Band Score of Japan is the world's best quality!

Shipping/handling is $7 in the usa.