FireHouse Hold Your Fire 1992 Guitar Recorded Ver. GUITAR TAB SONGBOOK - $100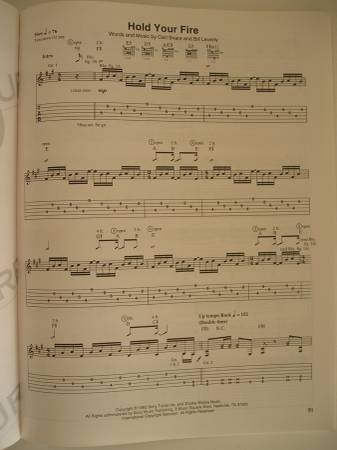 For Sale (1) USED Original Guitar Tab Book in new condition.

FireHouse Tablature Book* (Guitar Recorded Versions) Guitar TAB

This is FireHouse "Hold Your Fire" second studio album from Hal Leonard Music , "USA BOOK" w/vocal, guitars tab (Includes Complete Guitar Solos , with all Song from Album .).

Transcribed by Carl Culpepper , Hal Leonard published in 1993.

"Reach for the Sky"
"Rock You Tonight"
"Sleeping With You"
"You're Too Bad"
"When I Look Into Your Eyes"
"Get in Touch"
"Hold Your Fire"
"The Meaning of Love"
"Talk of the Town"
"Life in the Real World"
"Mama Didn't Raise No Fool"
"Hold the Dream"

This songbook is 101 pages and contains ALL ( Guitar & Vocals Only )
The song titles and lyrics is in English.

Condition; (New).

USA GUITAR TAB (Tablature) IS THE MOST ACCURATE IN THE WORLD!

Shipping/handling is $7 in the usa .