METALLICA "Kill Em All" (Cherry Lane 1990) Guitar Tab - $20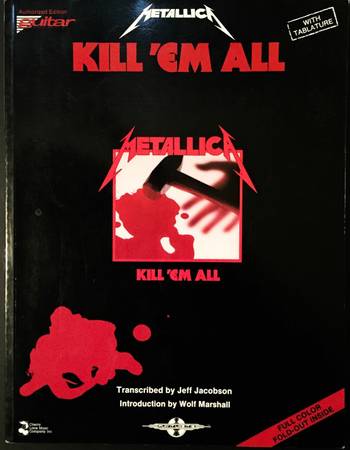 For Sale (1) NEW Original Guitar Tab Book or ( buy all 4 new metallica books for $70 )

METALLICA "Kill Em All" (Cherry Lane 1990) Authorized Guitar Tab Edition
(rare OOP) Transcribed by Jeff Jacobson & Introduction by Wolf Marshall.

This is METALLICA "Kill Em All" 1st Album (Cherry Lane) USA Guitar Tab BOOK w/guitars tab for all Solos and Rhythm Guitar Parts. published in 1988.

This songbook is 78 pages and does NOT contain ALL The Band parts. ( Guitar & Vocals Only )

Complete transcriptions to their debut album, including the songs:

Anesthesia) - Pulling Teeth
Am I Evil?
Blitzkrieg
Hit The Lights
Jump In The Fire
Metal Militia
Motorbreath
No Remorse
Phantom Lord
Seek & Destroy
The Four Horsemen
Whiplash

....plus photos & Poster

Book is Brand New!

Condition; (New)

USA GUITAR TAB (Tablature) IS THE MOST ACCURATE IN THE WORLD!

Shipping/handling is $5 in the usa .