METALLICA "AND JUSTICE FOR ALL" (Cherry Lane 1989) Guitar Tab - $20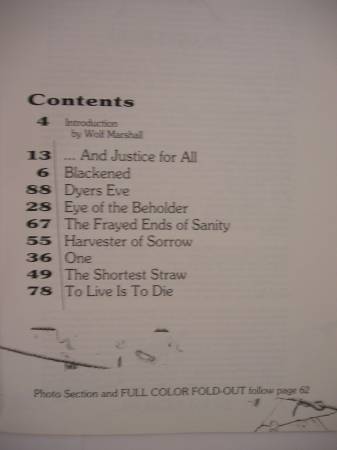 For Sale (1) NEW Original Guitar Tab Book or ( buy all 4 new metallica books for $70 )

METALLICA . . . And Justice For All (Cherry Lane 1989) Authorized Guitar Tab Edition
(rare OOP) Transcribed by Larry Meyer , Jesse Gress , Jon Chappell & Introduction by Wolf Marshall

This is METALLICA . . . "And Justice For All" 4th Album (Cherry Lane) USA Guitar Tab BOOK w/guitars tab for all Solos and Rhythm Guitar Parts. published in 1989.

This songbook is 95 pages and does NOT contain ALL The Band parts. ( Guitar & Vocals Only )

This Metallica guitar tab book is the matching folio to their multiplatinum album . . . And Justice For All includes all 9 smashing metal songs: " "Blackened," "Dyers Eve," "Eye Of The Beholder," "Harvester Of Sorrow," "One," "The Frayed Ends Of Sanity," "The Shortest Straw," "To Live Is To Die" & . . . And Justice For All."

....plus photos & Poster

Condition; (New)

USA GUITAR TAB (Tablature) IS THE MOST ACCURATE IN THE WORLD!

Shipping/handling is $5 in the usa .