NIGHT RANGER Midnight Madness / (JAPAN) Guitar Tab BOOK - $135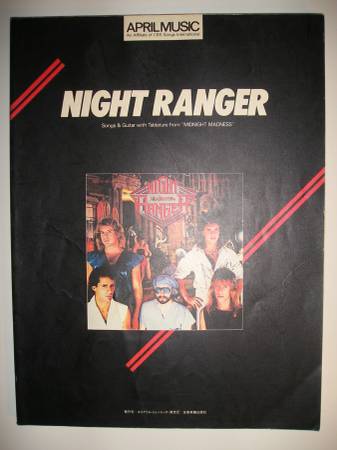 For Sale (1) USED Guitar Tab Book.

NIGHT RANGER Midnight Madness / APRIL MUSIC - CBS SONY Japan Guitar-Tab Edition
(Rare & Out Of Print)

Includes Complete Jeff Watson & Brad Gillis Guitar Solos , with all Song from Album .

(You Can Still) Rock in America
Rumours in the Air
Why Does Love Have to Change
Sister Christian
Touch of Madness
Passion Play
When You Close Your Eyes
Chippin' Away
Let Him Run

This is NIGHT RANGER "Midnight Madness" 2nd studio album / (APRIL MUSIC) JAPAN Guitar Tab BOOK w/vocal,guitars tab for all Solos and Rhythm Guitar Parts.
Publication 1983 Edition.

This songbook is 100 pages and does NOT contain ALL The Band parts. ( Guitar & Vocals Only )

Condition; (Good) USED ,

Guitar Score of Japan is the world's best quality!

Shipping/handling is $5 in the usa.