OVERKILL The Years Of Decay (Cherry Lane) Guitar Tab Tablature Book - $50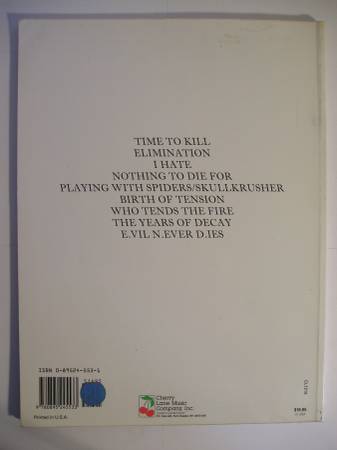 For Sale (1) USED Original Guitar Tab Book. -Rare OOP-

OVERKILL "The Years of Decay" (Cherry Lane 1989) Guitar for the Practicing Musician Authorized Guitar Tab Edition.
Bobby Gustafson - lead and rhythm guitars parts tabbed out. Transcribed by Carl Culpepper , Introduction by Wolf Marshall

This is OVERKILL "The Years of Decay" Song Selections from the 4th Studio Album (Published by Cherry Lane 1989 ) USA Guitar Tab BOOK w/guitars tab for all Solos and Rhythm Guitar Parts.

This songbook is 78 pages and does NOT contain ALL The Band parts. ( Guitar & Vocals Only )

1. "Time to Kill"
2. "Elimination"
3. "I Hate"
4. "Nothing to Die For"
5. "Playing with Spiders/Skullkrusher"
6. "Birth of Tension"
7. "Who Tends the Fire"
8. "The Years of Decay"
9. "E.vil N.ever D.ies"

Condition; (Excellent) Book looks new and still contains Pinup Poster

USA GUITAR TAB (Tablature) IS THE MOST ACCURATE IN THE WORLD!

Shipping/handling is $7 in the usa .