POISON "NATIVE TONGUE" (CPP Transcriptions) BASS GUITAR TAB EDITION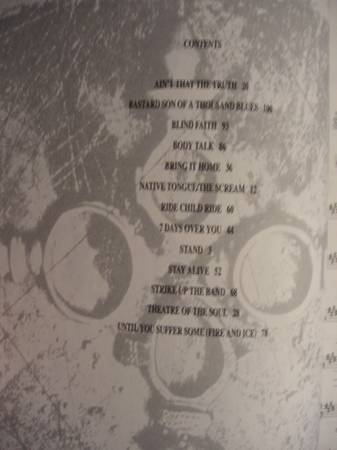 POISON "Native Tongue" (CPP Transcriptions) GUITAR TAB EDITION
(rare) Bobby Doll Bass Guitar Parts Transcribed by Michael Du Clos

This is "Native Tongue" Bass Guitar Tab for the fourth studio album by American hard rock band Poison.

Published by CPP/Belwin inc. 1993 USA Bass Guitar Tab BOOK w/vocal,Bass tab for all Bass Parts.

"Native Tongue"
"The Scream"
"Stand"
"Stay Alive"
"Until You Suffer Some (Fire and Ice)"
"Body Talk"
"Bring It Home"
"7 Days over You"
"Ain't That the Truth"
"Theatre of the Soul"
"Strike Up the Band"
"Ride Child Ride"
"Blind Faith"
"Bastard Son of a Thousand Blues"

This songbook is 110 pages and does NOT contain ALL The Band parts. ( Bass & Vocals Only )

Condition; (Like New)

USA BASS GUITAR TAB (Tablature) IS THE BEST QUALITY IN THE WORLD!

Shipping/handling is $5 in the usa .