SLAYER "SEASONS IN THE ABYSS" (Cherry Lane 1992) BASS TAB - $40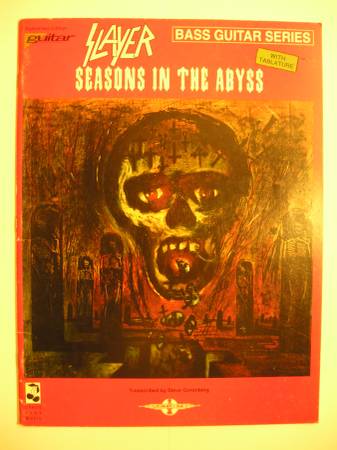 SLAYER "SEASONS IN THE ABYSS" Bass Guitar Series (Authorized Guitar Edition) Tab Book* (PLAY IT LIKE IT IS) BASS TAB

SLAYER "SEASONS IN THE ABYSS" Bass & Vocal Tab Book , Cherry Lane Music USA BOOK w/vocal,bass guitars tab.

published in 1992

Bass transcriptions with tab for 10 classics:

1. "War Ensemble"
2. "Blood Red"
3. "Spirit in Black"
4. "Expendable Youth"
5. "Dead Skin Mask"
6. "Hallowed Point"
7. "Skeletons of Society"
8. "Temptation"
9. "Born of Fire"
10. "Seasons in the Abyss"

This songbook is 42 pages and does NOT contain ALL The Band parts. ( Bass Guitar & Vocals Only )
The song titles and lyrics is in English.

Condition; (Excellent)

USA GUITAR TAB (Tablature) IS THE MOST ACCURATE IN THE WORLD!

Shipping/handling is $5 in the usa .